Gay couples getting married is becoming more and more commonplace. If you're looking for a wedding gift for a gay couple, you may be wondering what's the best way to go about it. Not to worry – we've got you covered!
In this post, we'll share some of our favorite wedding gift ideas for gay couples. From practical items to heartfelt gestures, we've got something for everyone. So read on and start shopping!
Unique Mr. and Mr. wedding gifts to show you care
1. Edinburgh Hand Casting Kit
If you are looking for a unique and memorable gift for a gay couple, this hand casting kit from Edinburgh makes a great choice. The kit includes everything needed to create beautiful plaster casts of the couple's hands, which can be displayed in their home as a reminder of your thoughtful gesture. This would be a great way for any couple to commemorate their time together. The kit includes two plaster hand molds, paint, and a display stand.
2. Mr. & Mr. Wedding Coffee Mug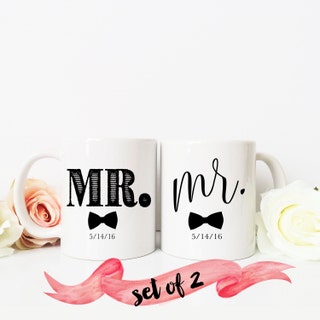 A perfect gift for any lesbian couple, this set of two mugs comes with "Mr and Mr" printed on them. They're simple, chic, and sure to start any morning off on the right foot. They'll love having their own mugs to enjoy their morning coffee or tea, and they'll appreciate the thoughtfulness of your gift. These mugs from MJs Bridal are made from high-quality ceramic, and they come in a beautiful gift box. They're also dishwasher and microwave safe, so they'll be easy to take care of.
3. Gay Rainbow Wisteria Flower Tunnel 3D Pop Up Greeting Card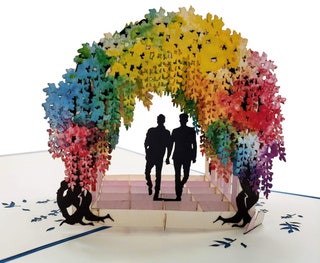 This vibrant wisteria flower greeting card is the perfect way to show your loved ones how much you care. The beautiful rainbow colors of the flowers are sure to bring a smile to their face, and the touching message inside will let them know just how much they mean to you. This card will be a treasure for many years to come. Whether you're sending it for a special occasion or just because this card is sure to let them know they're loved.
4. Mr. and Mr. Gay Wedding Print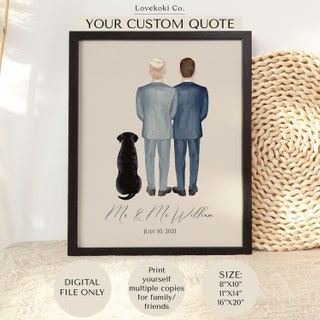 This art print makes for a very thoughtful gift, whether you choose to get it done after the wedding or before based on another image. You can customize it almost completely and it's a really adorable option. Since this is just a digital print, it would be nice to add a frame as well. What's nice about this piece of art is that it can easily add your personalization.
5. Gay Wedding Wreath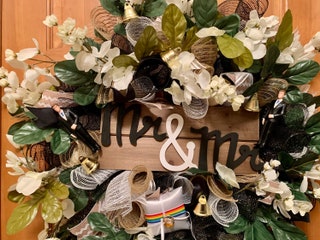 One popular option to choose wedding gifts for a gay couple is to give the couple a wreath for their home. This can be a beautiful way to commemorate their wedding day, and it's something that they'll be able to display proudly in their home. 24" wedding wreath in white, black, and natural-colored mesh, coordinating ribbon, and a sign that reads either Mr & Mr or Mrs & Mrs. Also comes with either two brides or two grooms, kissing bells, and a ring pillow with two men or two women's wedding rings.
6. Mr. & Mr. Personalized Candle Set
These candles smell great (they have a deep, exotic scent and are topped with musk) and also make for an excellent piece of minimalist décor. Each set is engraved with a name on one lid and the wedding date on the other. The "Mr." candles are deep, exotic, and topped with musk. The "Mrs." candles are floral and fresh with pomegranate undertones. A thoughtful engagement, wedding, or anniversary gift, the hand-poured designs will remind couples to keep the fire alive.
7. Mr. Right Mr. Always Right Shirts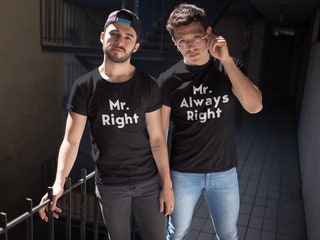 Whether they're going on their honeymoon right away or they just want to show off their status as newlyweds, these "Mr. Right Mr. Always Right" shirts are a perfect small gift. These stylish and fun shirts come in a variety of colors and sizes. They're sure to get a lot of use out of them, whether they're wearing them on their honeymoon or out on the town. Plus, they make a great conversation starter and will let everyone know just how proud you are of the new Mr. & Mr.!
8. LGBTQ Pride Art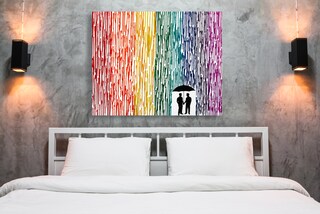 The best gifts for gay couples are the ones that come from the heart. Whether you're looking for something unique that celebrates their love or simply want to show your support for their relationship, there are plenty of options to choose from. LGBTQ pride artwork makes a great gift for any occasion and is sure to be appreciated by the couple. Whether they're looking for something to hang in their home or office, or simply want a nice piece of art to display, pride artwork is a thoughtful and meaningful option.
9. Metal Line Art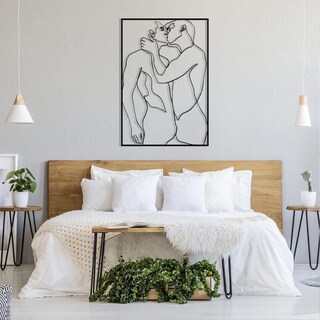 Another wall art option is this cool metal piece. They are stylish and modern. They are also a great way to show your support for the LGBT community. They also make a great conversation starter, and they can be used to show off your own personal style. Moreover, they will last forever and always look fabulous.
10. Mr. and Mr. Wedding Sign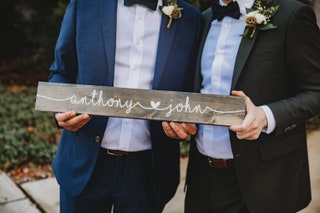 The wooden wedding sign makes a really thoughtful smaller gift or an addition to a bigger gift. It features their silhouettes as well as their newly shared name (if that's what they're doing). What's nice about this piece of art is that it can easily go indoors or outdoors. If you're going to celebrate the wedding of a gay couple, choose this art print as a gift, which shows the intersection of love by displaying both of their last names. Since this is personalized, you can put whatever names and dates you want here.
Best gift for a gay couple: Home and decoration
1. No Limit To Love Mr & Mr 5×7 Picture Frame
It is a beautiful and stylish frame that any gay couple would be proud to display in their home. The Mr. and Mr. Picture Frame is a perfect gift for weddings, anniversaries, or any special occasion that celebrates true love. Your friends, family, and co-workers will be delighted to receive this beautiful frame to display their precious memories in style. It is a high-quality frame that will last for years to come. The frame comes in a variety of sizes, so you can choose the perfect one to match the décor of the couple's home. It is a very thoughtful gift that will be cherished by the couple for years to come.
2. Wine Opener Set
Choosing wedding gifts for gay couples can be a bit tricky, but it doesn't have to be. A nice wine opener set is always a safe bet. You can never go wrong with a practical gift like this. This wine set gets you covered and includes everything you need to fully enjoy your favorite wine. The elegant, high quality and all-in-one set is ideal for wine lovers and wine enthusiasts, and it is also an amazing gift idea for many occasions. The stylish wine accessories kit will make anyone happy.
3. Loveseat Style Double Camp Chair with Steel Frame
The Loveseat Style Double Camp Chair with Steel Frame has a few features that make it stand out from the competition. First, the chair is made of high-quality materials that are built to last. The frame is made of durable steel, and the fabric is made of sturdy polyester. Additionally, the chair features a double-layer construction that makes it extra comfortable and supportive. Finally, the Loveseat Style Double Camp Chair with Steel Frame is easy to set up and takedown, making it perfect for gay couples who love to camp!
4. Dog Key and Leash Hanger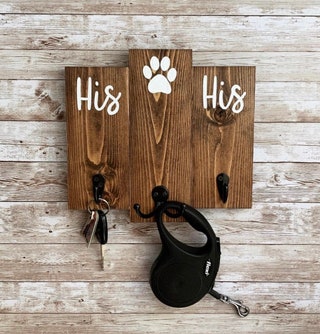 If the newlyweds have a dog they love, you'll gain major points by incorporating the pup into their wedding gift. This hanger is perfect to put right by the front door and is made to hold keys, hats, and a leash. It's a practical gift that will be appreciated and used often. If you're looking for something unique, consider a key and leash hanger. This way, the couple can keep their keys organized and in one place.
5. Wine Cork Holder
A Wine Cork Holder can be used to store wine corks, which can then be used as decoration or to make something else. This means that the gift can be used after the wedding, which is a practical use of space. Moreover, many couples like to collect wine corks as a way of remembering their wedding day. A Wine Cork Holder can provide a place to store these corks in a special way. This can be a sentimental reminder of the day they were married.
6. Wine Enthusiast 6-Bottle Countertop Wine Cooler
This wine cooler is stylish and modern. It will look great in any kitchen or home bar. The sleek design also makes it very practical and easy to use. Additionally, this wine cooler is also very affordable, making it a great option for couples who are on a budget. Another reason to choose this wine cooler as a wedding gift is that it is very reliable. It has been tested and certified by Wine Enthusiast, one of the most trusted names in wine refrigeration. Lastly, the Wine Enthusiast 6-Bottle Countertop Wine Cooler is a great way to help couples start their own wine collection.
7. Piggy Bank for Adults
Piggy Banks are a classic symbol of saving money. So giving a Piggy Bank as a gift can help the gay couple start their own savings account and begin building their financial future together. Moreover, choosing a unique and memorable gift like a Piggy Bank is a great way to show your support and encouragement for the gay couple as they embark on their new life together. So if you're looking for a great gift idea for a gay couple's wedding, consider Piggy Bank for Adults.
8. Custom Wood Cutting Board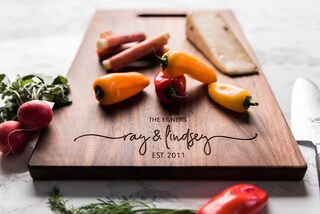 A custom wood cutting board can be personalized with the couple's initials or a special design. This makes them truly special keepsakes that the couple can use and enjoy for years to come. A well-made cutting board is durable and can withstand lots of use, making it the perfect addition to any kitchen. Additionally, because they come in a variety of shapes and sizes, there is sure to be one that perfectly suits the couple's needs.
9. Personalized Wedding Champagne Flutes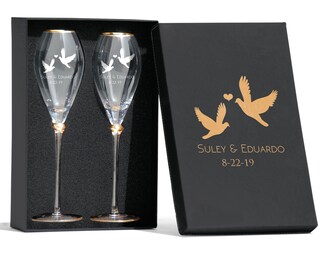 One great thing about using these flutes is that they can be personalized with the couple's names and wedding dates. This will make them even more special and unique, and it will show all of the guests that extra thought was put into making the reception exactly perfect for the happy couple. Not only will these glasses make a beautiful addition to the wedding decorations, but they will also be a practical reminder of the day-long after the flowers have wilted and the cake has been eaten.
10. Engraved Gold Wedding Cake Server Gift Box Set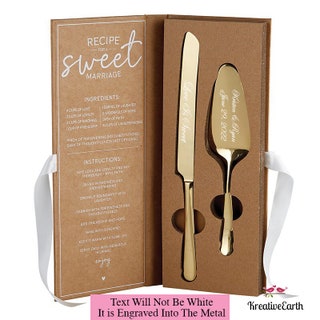 There are many reasons why engraved gold wedding cake server gift box sets make perfect wedding gifts for couples. First of all, they are beautiful and elegant pieces that will be cherished for years to come. Secondly, they are practical tools that will help the couple cut their wedding cake on their big day. And lastly, they come with a beautiful gift box that can be used to store the cake servers after the wedding.
Tips to choose gifts for gay couples
When it comes to choosing gifts for gay couples, there are many things to consider. Whether you are looking for something practical or romantic, here are some tips to help you choose the perfect gift.
1. Consider their interests
What do the couple enjoy doing together? This can be a great place to start when choosing a gift. If they are into art, consider an art wall. If they love camping, a Double Camp Chair would be appreciated.
2. Think about their relationship
How long have they been together? What are some of their favorite things to do together? This can help you choose a gift that is more personal and unique.
3. Don't forget the little things
Sometimes it's the little things that mean the most. A simple card, a handwritten note, or even a small token of your affection can go a long way.
4. Get creative
There are many unique and thoughtful gifts out there, you just have to put in a little bit of effort to find them. You can even create your own gift if you're feeling particularly crafty.
When it comes to choosing gifts for gay couples, the most important thing is to put some thought into it. With a little bit of effort, you can find the perfect present that they will both love and appreciate.