While a bottle of Cabernet may be the classic present for the wine-obsessed, it may not always be the best option if you're looking for something a little more unique. If you want to give a gift that will really stand out, try one of these wine-themed ideas instead.
Wine lovers can be difficult to shop for because they often already have all the basics. But with a little creativity, you can find a gift that will make even the most discerning oenophile happy. Here are some unique and cool wine gifts for the wine lover in your life:
Wine gifts for wine lovers: Home decoration
1. State-Shaped Wine Cork Holder
You can purchase this birch wood cork holder in the shape of all 50 states—maybe your home state or the one with your favorite wine region. Suddenly memories from your favorite nights spent over a bottle of wine become artwork. These nifty little gifts are perfect for anyone who loves wine and decorating. Wine Cork States are made from, you guessed it, wine corks! They come in all 50 states, so you can pick the perfect one for your favorite wine lover's home.
2. Wine Neon Sign
This eye-catching neon sign is perfect for the wine lover who loves to entertain. It's sure to add a touch of fun and sophistication to any home bar. Batman has the bat signal, you have this. It's so cool that it may just become the new go-to gift for all your wine-loving friends.
3. White Oak Aging Barrel
Wine barrel furniture is both stylish and functional, and it will make a great addition to any home. These barrels are perfect for home use, or commercial applications. The heavy-duty American oak wood is charred on the inside to perfection, slowly releasing the wood's natural flavors and aromas into your beverage of choice, whether it be wine, whiskey, other spirits, or even non-alcoholic such as seltzers and sodas. Put a smile on your face every time you see the craftsmanship and monogrammed lettering on your barrel.
4. Monogram Wine Glass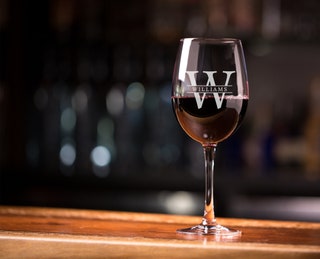 These glasses are a great way to add a personal touch to any gift. You can have them engraved with the recipient's initials, a special date, or a message of your choice. Engraved wine glasses make a great gift for any occasion, and they're sure to be treasured for years to come.
5. Wind Chimes Made From Glass Wine Bottles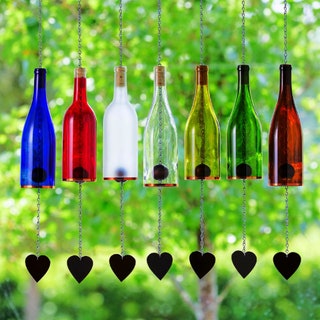 For the outdoorsy wine lover, nothing will be more comforting than listening to the sound of these wind chimes while enjoying a glass of wine on the porch. Never before has the beauty of sight and sound complimented each other so perfectly. These Wine Bottle Wind Chimes are the perfect addition to any backyard or patio. They expertly cut a 750ml wine bottle and wrap it in a beautiful cooper accent that lets the sunlight dance off it. Then we attach a beautifully stained wooden ball and heart flag that grabs the wind as it passes by.
Cool wine holders for wine lovers this year
1. Wine Enthusiast 6-Bottle Countertop Wine Cooler
This wine cooler is stylish and modern. It will look great in any kitchen or home bar. The sleek design also makes it very practical and easy to use. Additionally, this wine cooler is also very affordable, making it a great option for couples who are on a budget. Another reason to choose this wine cooler as a wedding gift is that it is very reliable. It has been tested and certified by Wine Enthusiast, one of the most trusted names in wine refrigeration. Lastly, the Wine Enthusiast 6-Bottle Countertop Wine Cooler is a great way to help young couples start their own wine collection. It can hold up to six bottles of wine, which is the perfect amount for a small collection.
2. Collapsible Folding Camping Beach Table
This table is perfect for couples who love camping and spending time outdoors. It's easy to set up and take down, and it's very lightweight, making it perfect for carrying in your backpack. This table is perfect for picnics, beach days, or camping trips. It's sturdy enough to hold all your food and drinks, and it collapses down for easy storage. This is a great gift for anyone who loves spending time outdoors with a good glass of wine.
3. Wine Glass Caddy Personalized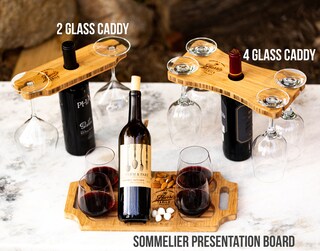 Worry more about filling your glasses with wine than about having full hands with this bottle and glass holder. It has a spot for your wine bottle and two convenient areas that your wine glass stems will fit right into. Cleverly designed Wine Caddies are crafted to hold almost any size or shape of a wine bottle and standard wine glasses. They defy gravity while showing off your personalization and your prized bottle.
4. Personalized Picnic Table Wine Carrier
Get ready for some al fresco sipping with this cute personalized mini table that folds up into a handy carrier for toting all of your picnic essentials. The best memories involve food and friends, al fresco. It's why Mike Blaschka crafts this personalized picnic carrier with love and beautiful cherry wood. They saw and sanded all the pieces by hand in their shop, then engrave them with your family name and special date.
5. Wine Travel Suitcase
Whether it's buying bottles on their travels or bringing their own stash on the go, this suitcase outfitted with high-density foam can carry a full case. It holds up to 12 bottles (750ml) of wine or some spirits. Moreover, it is designed to accommodate clothes or other personal items by removing one or more inserts. Additional inserts for magnums, wine glasses, spirits, and beer are available.
Small unique wine gifts for wine lovers
1. S/6 Jeweled Wine Charms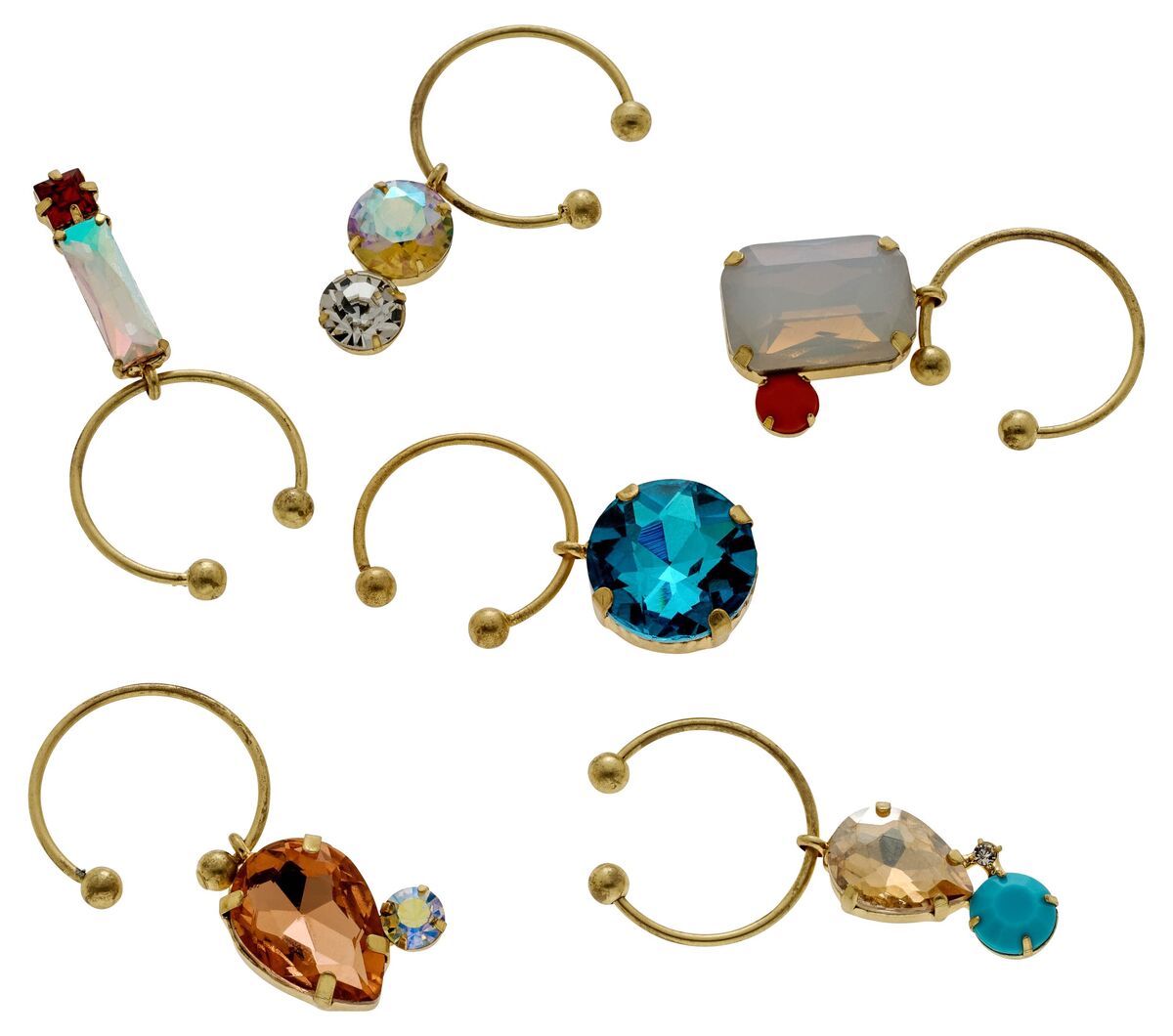 These baubles are just the thing to make keeping track of your glass feel luxe. These S/6 Jeweled Wine Charms are perfect for adding a touch of glamour to any glass of wine. They come in six different colors, so you can mix and match them to create your own unique look. These charms also make a great hostess gift. A fun and stylish way to mark glasses during cocktail hour and dinner parties, these charms each feature an individualized gem-like glass accent.
2. Electric Corkscrew Wine Opener
This sophisticated electric corkscrew opens bottles with maximum ease and maximum speed, for those times you need wine ASAP. This electric corkscrew effortlessly removes wine corks from the bottle on contact, then automatically ejects them from the spiral. The included rubber anti-rotation bottle coaster provides an easier wine opening experience and catches drips. It can open 30+ bottles of wine on a single charge, reusable wall charging port included.
3. May Contain Wine T-Shirt Alcohol Shirts
These shirts are perfect for wine lover who loves to show off their sense of humor. There are all sorts of clever designs to choose from, so you're sure to find the perfect one for your favorite wine lover. It's sure to get a laugh, and it's a great way to show off their sense of humor.
4. Snacks & Wine Tote Bag
This 18×18-inch tote bag features 1-inch cotton web handles and double-stitched seams for durability. It's made from spun polyester. This tote has plenty of room for the essentials. What essentials, you ask? Just read the bag.
5. Bring Me Wine Socks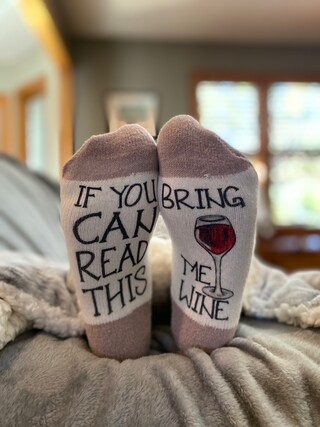 Need to get off your feet and have a glass of wine? Throw these socks on and put your feet up and someone and someone is sure to bring you some shortly(results may vary). They are super soft, yet lightweight, so they can be worn all year long. Truly—need we say more? Okay, fine, a few extra details: You can order these socks in seven different colorways. The women's version fits feet sizes five to ten and the men's fits sizes eight to 11.
Best wine gifts for wine lovers: Book and Games
1. The Impossible Collection of Wine
Let's call a spade a spade: This is a massive splurge, worthy of only the most expert wine lover in your life. It's a massive book about the 100 most exceptional vintages of the 20th century. There are gorgeous pictures, lovely-to-read descriptions, and a pretty wood box to hold the tome. This book is the perfect gift for the wine lover who loves to dream big. It features 100 of the most iconic and rare wines in the world, and it's sure to be a treasured addition to any collection.
2. Stuff Every Wine Snob Should Know
Wine is one of the world's oldest beverages, and there's never been a better time to fill a glass with the fruit of the vine. Whether you prefer robust reds, crisp whites, or subtle rosés, you'll find lots to drink in on the pages of this pocket-sized guide, packed with information, how-tos, and trivia for wine enthusiasts of every variety. Seasoned sommeliers and budding oenologists alike will learn all things wine.
3. Wine Life: A Snarky Adult Colouring Book
The perfect way to unwind? A wine-themed adult coloring book and a glass of vino, of course. The single-sided pages have illustrations for you to color along with cheeky phrases like "technically you're not drinking alone if your dog is home" and "my blood type is merlot but I'm a universal recipient".
4. The Wine Game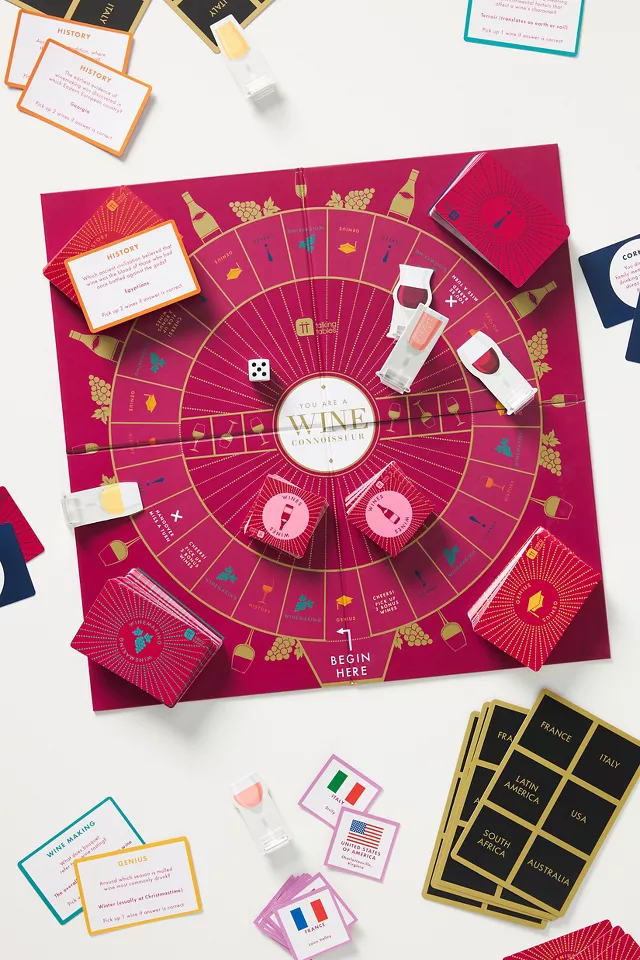 Test your wine trivia knowledge with this fun board game that features questions about wine history, winemaking, and all sorts of tidbits only a true oenophile would know. A unique gift for the wine aficionado, this board game challenges your luck and knowledge of wine in a fun, tablet-friendly format.
5. A Blind Wine Tasting Board Game
Learning is fun—especially when there's wine involved! This blind tasting board game not only gives you something fun to play with vino-loving friends but also subtly teaches you how to blind taste like a pro. With their easy-to-learn game, you and up to five friends take turns sampling and guessing mystery bottles and unlocking "cellar doors" as you progress through the board. No special knowledge is necessary: You only need a passion for wine and a desire to enjoy it on a deeper level. By the end of your first game, you'll have learned how to blind-taste like a sommelier, and all without putting on airs (unless you want to, of course).
Tips to choose unique and cool wine gifts for wine lovers
If you want to give someone a unique and cool wine gift, consider the following tips:
1. Choose a gift that is unique and memorable.
One of the best things about giving gifts to wine lovers is that you can find some truly unique and memorable items. For example, you could consider a special bottle holder or hard-to-find wine T-shirts.
2. Go above and beyond with your gift.
If you really want to impress the wine lover in your life, then you'll need to go above and beyond with your gift. Consider giving a gift basket that includes a variety of home decorations, as well as some wine equipment.
3. Don't forget the basics.
Even if the wine lover in your life is not an expert, they will still appreciate some of the basics. Therefore, you'll want to make sure you include a wine opener Additionally, you may want to consider giving a book on wine appreciation or even a subscription to a wine magazine.
4. Put some thought into your gift.
When it comes to choosing gifts for wine lovers, it is important to put some thought into your selection. After all, this is someone who you care about and want to make happy. Therefore, take the time to find a gift that you know the recipient will truly appreciate.
Just remember to put some thought into your selection and choose a gift that matches the recipient's personal taste. With a little effort, you can find the perfect gift for any wine lover in your life.