Wedding gifts are traditionally given from the couple's registry, but if you have a close relationship with them it can be nice to go against this tradition and give them something more personal. In these cases, we recommend looking into which items can be customized with the names of the bride and groom, the date of the wedding, or any other special message.
They make perfect keepsakes for newlyweds, and they're sure to impress guests at the wedding celebration. So why not take a closer look at some of the best options currently available? You're sure to find something perfect for the happy couple.
Personalized wedding gifts for couples: With text, date, and special message
1. Personalized Cutting Board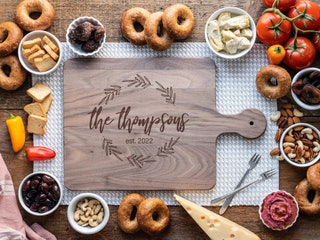 For the couple who loves to cook together, this personalizable cutting board is a must-have wedding gift. They can use it for everything from prep work to serving charcuterie and cheese at their next dinner party. Plus, you can add their names, initials, or a special message to make it truly unique. They're perfect for chopping veggies or slicing bread at your next dinner party. Plus, they make a great conversation piece! Give the newlyweds something they'll use and love for years to come. Order your personalized cutting board today!
2. Jewelry Dish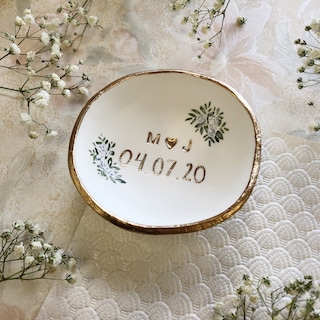 At Jewelry Dish, we understand that couples have unique relationships and their own individual styles. That's why we offer a wide range of beautiful jewelry dishes, perfect for any couple! Whether you're looking for a simple dish to keep your rings safe while you wash your hands or a stunning decoration for your bedroom dresser, we have the perfect option for you. Our jewelry dishes are made from high-quality materials, so you can be sure they'll last. And with a variety of colors and designs to choose from, you're sure to find the perfect one to match your style.
3. Wood Map with Personalized Milestone Pins
Capture the most important places in your lives or travels over the past years in an anniversary map. You can choose up to two maps (including the U.S or World map) and customize the details. We recommend including both of your hometowns, where you met, where you got engaged, where you married, and where you honeymooned. If the couple in your life loves to jet-set around the world, get them this personalized wooden map. They can use the customizable push pins to commemorate their favorite special occasions.
4. Personalized Hearts Four-Across Game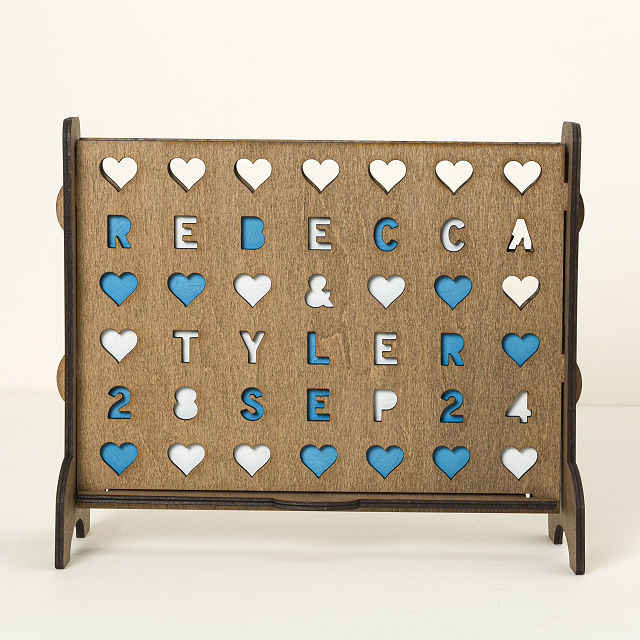 Treat your loved ones to a lighthearted game of four-across. The couple who plays together stays together. Challenge your other half to some lighthearted competition with Kasey and Justin Pearson's lovingly crafted four-across game. They carve their handsome, heirloom-quality activity set from maple wood. Amid a field of incised hearts, up to four lines (seven characters each) can be personalized with your names, anniversary date, or a sweet message to surprise the one you adore.
5. Happy Anniversary Wine Bottle Label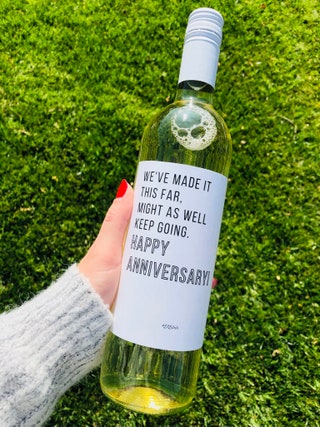 No matter what your reasons may be, a Happy Anniversary Wine Bottle Label Funny Cute Wine Label is the perfect way to commemorate a special day. These labels are made of high-quality vinyl, and they're designed to fit most standard wine bottles. They're also easy to apply – just peel and stick!
6. Custom Date Folded Book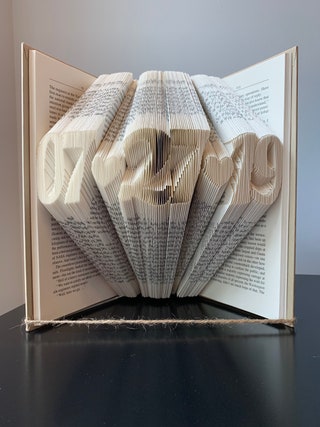 A custom datebook is a great wedding gift for couples. It can be used to record all of the important dates in their relationship. Dates are always a great way to show your loved one how much you care. What could be more special than having your own custom date book? This is the perfect way to commemorate a special date together—whether it's your anniversary, your first date, or just a day that's especially meaningful to you.
7. Personalised Leather Cufflinks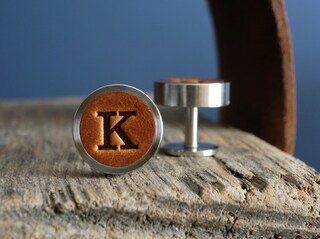 A thoughtful wedding gift for your groom-to-bee, these cufflinks are made from full-grain leather that's hand-stamped with a single initial. (Engrave them with his initials, or do one with your first initial and one with his.) The stainless steel setting pairs beautifully with the leather, which comes in tan, dark brown, and black.
8. Large Wall Clock 
Etsy has some of the top personalized wedding gifts out there, like this stunning wall clock. The repurposed barn siding and contemporary gray hue strike the ultimate balance of modern farmhouse style. It's finished with Roman numerals, the couple's last initial, and the year they're tying the knot in classic white paint.
9. Family Last Name Sign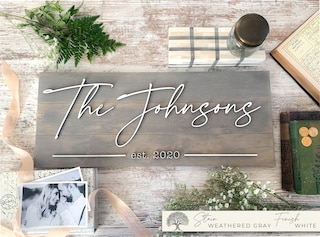 A unique and thoughtful wedding gift for a couple is a family last name sign. This can be hung in their home as a constant reminder of their new family status. The couple that has everything may not have a last name sign for their home. This can be a sweet and sentimental gift that the couple will love. If the couple plans on sharing a surname, wedding gifts personalized with their last name will instantly garner excitement. This address sign might just be the first time they see their new family name on something so official.
10. Personalized Recipe Book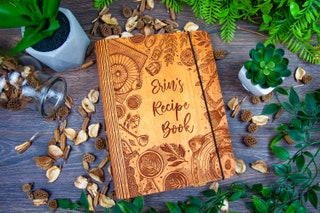 There are many choices for wedding gifts, but a personalized recipe book is a unique and special gift that will be appreciated by the new couple. A recipe book is a practical gift that can be used every day, and it can be customized with recipes and photos of the bride and groom. It is a sentimental gift that will remind a couple of their wedding day every time they cook a meal together.
Personalized wedding gifts for couples: With their image
1. Personalized Photo Coffee Mug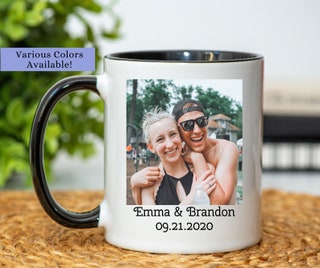 It helps the newlyweds start their mornings off right with this custom coffee mug. They can add their favorite photo, along with their names and wedding date, to make it extra special. It's a gift they'll use every day – and think of you every time they take a sip!
2. Personalized Face Cushions
When you are looking for a unique and thoughtful gift for a couple, personalized face cushions make an excellent choice. These soft and cozy pillows add a touch of personality to any room, and they can be customized with the names or initials of the recipients. What's more, they make great additions to home decor, making it easy to snuggle up on the couch together.
3. Personalized First Anniversary Comic Book Gift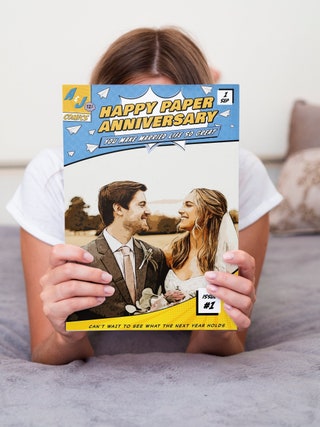 A personalized comic book gift is the perfect way to commemorate the first anniversary! Not only is it fun and unique, but it also captures all the memories and moments of your first year together as a couple. Plus, you can choose your own custom cover and characters to represent you both. What could be more special than that?
4. Personalized Family Dance Party Art
Why couples might choose to have a personalized family dance party picture rather than a traditional posed portrait. Maybe they want to celebrate their unique relationship in a fun and unique way. Maybe they want to create a special memory that will last forever. Or maybe they just want to have some silly fun with their friends and loved ones! Whatever the reason, a personalized family dance party picture is sure to be a hit. It's a great way to show off your personality and have some laughs with your nearest and dearest.
5. Futurama Cartoon Portrait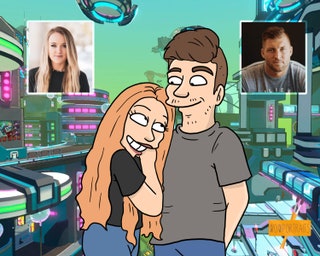 The portraits are extremely unique and will definitely be something that your friends and family have never seen before. They're also a lot of fun, and everyone who sees them will get a good laugh. Additionally, they're a great way to commemorate your relationship and will last for years to come. Finally, they're affordable, so you can get a high-quality portrait without breaking the bank. So if you're looking for something different and fun, Futurama Cartoon Portrait is definitely the way to go!
6. Personalized Puzzle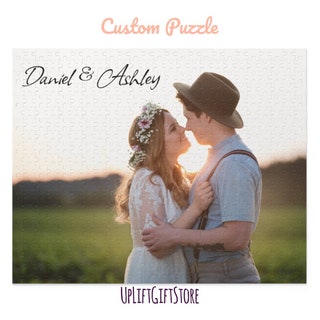 This custom puzzle is a fun and unique gift for any couple who loves spending time together. It can be personalized with their names, wedding dates, or a special message, making it a thoughtful keepsake they'll cherish for years to come. Plus, it's a great way for them to bond and spends some quality time together while putting it together.
7. Fully Customizable 1 Person Custom Bobblehead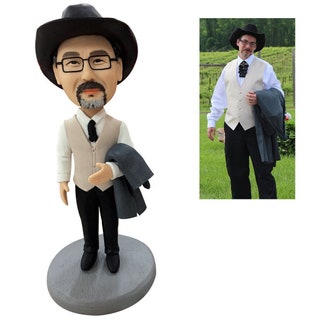 They are completely customizable, so you can choose the perfect look for your favorite couple. They are also made to look like real people, which means they will be a perfect addition to your home décor. Plus, they make great conversation starters and are sure to bring a smile to your face every time you see them. Lastly, they are affordable and sure to be a great gift for any occasion.
8. Personalized Blanket with Photo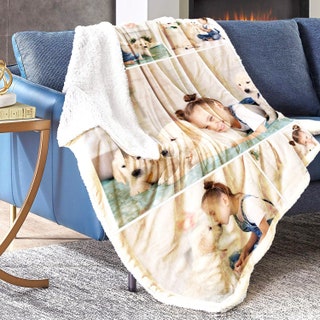 A personalized blanket is unique and special. It shows that you put a lot of thought into picking out a gift for the couple. Furthermore, blankets are always a practical gift. They can be used for warmth in the winter or as a cozy blanket to relax under in the summer. A personalized blanket with a photo is a sentimental gift. It captures a special moment in the couple's life and will be treasured for years to come. When looking for a gift for couples, a personalized blanket with a photo is always a good choice.
9. Wood Burned Desk Photo Clock 
A unique and thoughtful gift for any couple, a personalized wood-burned desk photo clock is the perfect way to commemorate your relationship. The clock can be customized with a photo of the happy couple and their names, making it a one-of-a-kind addition to their home décor. What could be more romantic than giving your partner a reminder of your love every time they glance at the clock? Whether it's used as a main focal point in their living room or simply sitting on a desk in their office, this unique gift is sure to be appreciated by any couple.
10. Wedding Guestbook Alternative – Guest Sign In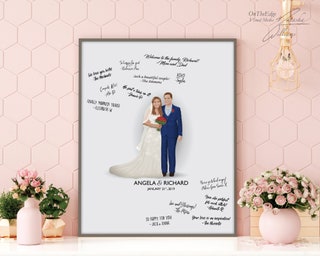 Here's another great example of personal meets practical. Not only is this a custom portrait of the happy couple, but it also doubles as an alternative to a traditional guest book. Let wedding guests write down their thoughts and wishes for the bride and groom directly onto the artwork, transforming this into a truly memorable and display-worthy keepsake.
Tips to choose personalized wedding gifts
If you're looking for something a little more personal than the usual fare, consider giving the newlyweds a personalized gift that they'll cherish for years to come. Here are some tips to help you choose the best-personalized wedding gifts:
1. Take into consideration the couple's hobbies and interests
If they love to cook, for example, a custom-engraved cutting board or set of cooking utensils would make a great gift. Or, if they're avid game fans, you could get them a personalized puzzle.
2. Think about what kinds of things the couple likes to collect
If they have a specific interest, such as comic books or vintage cars, you can find a gift that fits perfectly with their collection. For more general collectors, consider getting them a beautiful custom-made album to store all their precious memories in.
3. Choose something that celebrates the couple's new life together
A custom-engraved champagne flute set or coffee mug would be a lovely way to toast their future happiness. Or, if they love to decorate their home, you could get them a personalized family sign.
4. Don't forget to consider the couple's home decor style when choosing a personalized gift
If they prefer a more modern look, you could get them a sleek and stylish custom-engraved wall clock or picture frame. Or, if they prefer a more traditional aesthetic, you could opt for a classic engravable keepsake box or tray.
By following these tips, you're sure to find the perfect personalized wedding gift for the special couple in your life.