Camping is a great way to get out into nature and enjoy some time away from the hustle and bustle of everyday life. For couples, camping can be a time to reconnect and share new experiences together. It can also be a fun activity for the whole family. Camping is a great way to get out into nature and enjoy the fresh air.
If you're looking for some new ideas for the next camping gear, you'll definitely want to check out these insanely practical camping gifts. From cozy sleeping bags to robust tents, these items will make your next camping trip even more enjoyable. So don't wait any longer – order your favorite items today!
Gifts for Couples Who Enjoy Car Camping
1. Portable Power Station
If you and your partner love spending time outdoors, a portable power station is a must-have camping accessory. This handy device will allow you to charge phones, laptops, and other electronics while you're away from home. A portable power station is also a great gift for couples who like to travel. With this, you'll never have to worry about being out in nature without being able to listen to music or charge your electronics!
2. Emergency Medical Kit
No matter how prepared you are, accidents happen. That's why it's always a good idea to have a first aid kit on hand while camping. This emergency medical kit from Surviveware Store is perfect for couples who love spending time in the great outdoors. It includes everything you need to treat minor injuries and illnesses, including bandages, ointments, and pain relievers.
3. ALPS Mountaineering King Kong Chair
We all know how important it is to be comfortable when camping. But what about when you're camping with your significant other? You want to make sure that they're just as comfortable as you are! That's where the Alps Mountaineering King Kong Chair comes in. This thing is built for two, so you and your partner can relax in comfort together. It's also sturdy enough to hold up to 600 pounds, so you don't have to worry about it breaking under your combined weight.
4. Osprey UL Packing Cube Set
These are amazing for helping you organize your gear and keep everything tidy in your pack. They make packing and unpacking a breeze, and they help keep dirty clothes separate from clean clothes. We always bring a few different sizes on our trips so we can easily grab whatever we need without having to dig through our entire pack.
5. Intex Air Mattress
A good camping mattress is essential for a comfortable night's sleep, and this Intex air mattress comes with its own built-in pump for easy inflation. It's also big enough to fit two people, so the couple can snuggle up together under the stars. Whether they are car camping or sleeping under the stars, this air mattress will make their experience much more comfortable. The built-in pump means no fumbling around with external pumps or struggling to blow it up by mouth.
Luxury Gift Items for the Backpacking Couple
1. Family Camping Tent
When it comes to couples camping, one of the most important things is to have a good quality tent. This is because a comfortable and spacious tent will make camping much more enjoyable for both partners. The family camping tent by the UNP store is a great option for couples who want a little more space and comfort while they are out in the wilderness. This tent is big enough to comfortably fit two people and has a waterproof canopy that will keep you dry in case of rain.
2. Collapsible Folding Camping Beach Table
This table is perfect for couples who love camping and spending time outdoors. It's easy to set up and take down, and it's very lightweight, making it perfect for carrying in your backpack. It has a lot of surface area, so you can easily fit all of your camping gear on it, and it has a hole in the center so you can put your umbrella in it to keep yourself shady.
3. 17-Piece Portable Cookware Set For Two
This is the perfect cookware set for couples who love to camp and spend time outdoors together. The set includes all of the essentials, like pots, pans, utensils, and plates, so you can easily whip up your favorite meals. Plus, it's all packed up in a handy carrying case, so it's easy to transport.
4. Burner Propane Gas Camping Stove
This is a great gift for couples who love to camp! The burner propane gas camping stove is perfect for cooking meals while enjoying the outdoors. It features two burners that provide even heat distribution, so food can be cooked evenly. Plus, it has a windscreen to protect the flame from gusts of wind. This stove also comes with a carrying case, so it's easy to transport.
5. Portable Propane Heater
This little heater is a total game-changer when it comes to camping in the cold. It runs off of propane and can really take the chill out of the air, making for a much more comfortable experience. It's also very lightweight and easy to transport, so it's a great option for couples who like to camp in different areas.
A Few Fun Camping Accessories and Items for The Couple
1. Double Camping Hammock and Straps
This is the perfect camping gift for couples who love spending time outdoors together. The double camping hammock is large enough for two people and comes with straps so it can be easily hung from trees or other sturdy objects. It's made of durable fabric that can withstand the elements, and it's available in a variety of colors to suit any preference.
2. Inflatable Lounger Air Sofa
The Wekapo Inflatable Lounger Air Sofa is perfect for camping, picnics, pool parties, and more. It is made of high quality, durable material and can accommodate up to three people. The sofa has a comfortable headrest and footrest and comes with a carrying bag for easy transport. It is also easy to set up and take down and can be inflated in just minutes.
3. Collapsible Portable Heavy Duty Trunk Organizer
The Collapsible Portable Heavy Duty Trunk Organizer is perfect for camping trips! It's made of durable, heavy-duty material and features compartments and pockets to keep everything organized. The organizer is also collapsible for easy storage.
4. Coleman QuikPot Propane Coffee Maker
If you're a coffee lover who also loves spending time outdoors, then the Coleman QuikPot Propane Coffee Maker is the perfect camping companion for you. This compact and easy-to-use coffee maker brews delicious hot coffee in just minutes, using just a single cup of standard propane. The Coleman QuikPot is also great for making other hot beverages like tea or hot chocolate. And when you're done, the coffee maker disassembles easily for compact storage. So next time you head out camping, make sure to bring along the Coleman QuikPot Propane Coffee Maker for a hot cup of coffee in the great outdoors.
5. Stainless Steel Coffee Mugs with Lid
These mugs are perfect for taking on the go. They're made of durable stainless steel and have double-wall insulation to keep your drinks hot or cold. The mug also has a convenient carrying handle. Whether you're headed out for camping or just want a mug that will keep your coffee hot all morning, these stainless steel mugs are a great choice. They're also dishwasher-safe for easy cleaning.
Camping Gifts for Couples who Enjoy Photographing and Gaming
1. Flexible Tripod
If your favorite camping couple loves photography, then a flexible tripod is the perfect gift for them! This type of tripod can be wrapped around tree branches or other objects, making it perfect for getting those hard-to-reach shots. It's also lightweight and portable, so it won't weigh them down on hikes or other activities.
2. Godefa Phone Camera Lens Kit
If you know a camping couple who loves photography, this phone camera lens kit would make an excellent gift! It includes six different lenses to help them capture all the beauty of nature, from wide-angle shots to close-ups. The lenses clip onto their phone for easy use, and the whole kit comes in a handy carrying case.
3. Intimacy Deck by BestSelf
This is the best couples camping gift for those who love games that help to foster intimacy and connection. The deck includes 54 cards, each with a different prompt or activity designed to get you talking, laughing, and sharing with your partner. It's the perfect way to build deeper intimacy and connection while enjoying some time in nature.
4. Love Lingual Card Game
This card game is the perfect gift for couples who love spending time outdoors and enjoying nature. The aim of the game is to learn new words and improve your communication skills with your partner. What better way to spend some quality time with your partner than by playing a game that can help improve your relationship? This is the perfect gift for couples who want to have some fun while also working on their communication skills.
5. Custom YourOpoly Board Game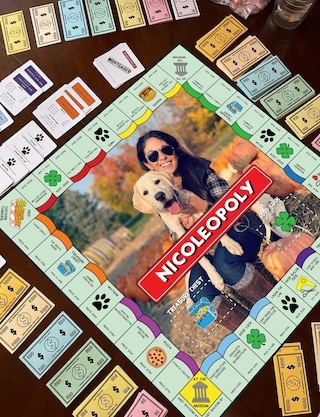 This Camping Gifts for Couples who Enjoy gaming is the perfect way to spend some quality time together while enjoying the great outdoors. This game allows you and your partner to create a custom board game that is specifically designed for two players. You can choose from a variety of different game boards, each with its own unique challenges and objectives. You can also customize the rules to fit your own personal playing style. This is a great gift for any couple who enjoys spending time together and enjoying the outdoors.
Tips to Choose Camping Gifts For Couples
Are you stuck on what gift to give the special couple in your life who loves to camp together? Here are some great tips to choose camping gifts that any outdoorsy couple is sure to love.
1. Consider their favorite camping activities
If they love to hike, a nice hiking guidebook or new hiking boots would be appreciated. For couples who love to fish together, consider a new fishing rod and reel or a tackle box filled with their favorite lures.
2. Think about what they need for their next camping trip
New sleeping bags, a portable power station, or an air mattress can all be great camping gifts.
3. Get them something to help them relax after a long day of hiking or fishing
An interesting game would be greatly appreciated. Alternatively, a gift certificate for a couple's massage would be the perfect way to help them unwind.
4. Help them make the most of their next camping trip with a gift that will help them stay organized
A new camping cooler or storage container will be put to good use on their next adventure.
5. If you really want to spoil them, consider giving them a gift that will make their camping trips more comfortable
A portable camp shower or a set of camping chairs would be greatly appreciated.
With these tips in mind, you should have no trouble finding the perfect camping gift for the special couple in your life.