If you've been together for 30 years, it's a big deal and something to celebrate! To commemorate the occasion we've put together some great gifts. Whether they're modern or traditional ideas our guide will help find that perfect gift idea in no time at all so your loved ones can feel special on their special day too.
The official traditional 30th-anniversary gift is a pearl representing purity. Our gift guide has modern and traditional 30th wedding anniversary gift ideas for your loved ones.
Here are the best 30th-anniversary gifts.
Practical gifts for 30th anniversary: Home decor and appliances
1. Personalized 30th-Anniversary Pebble Art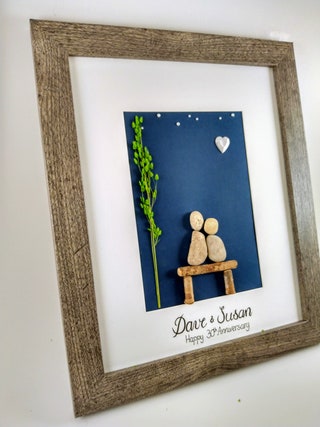 The picture can be made with a golden, silver, ruby, green, blue or crystal heart depending on the Anniversary Year. The pebbles and all other parts of the art are glued to the matte with super heavy-duty glue and are supposed to stay in place for a lifetime if not exposed to extreme temperatures for a long period of time and handled with care. For your traditional 30th anniversary gift, why not create a personalized piece of art using pebbles? This unique and thoughtful gift will be cherished by your loved ones for years to come.
2. Heart Waffle Maker
Bring a little love to your favorite couple's breakfast time with this waffle maker. It comes with two heart-shaped plates that make perfect waffles. For the couple that loves breakfast in bed, this heart-shaped waffle maker is the perfect 30-year anniversary gift. It comes with a convenient drip tray to catch any errant batter and has non-stick surfaces for easy cleanup. Plus, it'll make your mornings just a little bit sweeter.
3. Glass Bud Vase Set of 10
When it comes to gift-giving, the 30th anniversary is definitely a special occasion. If you're looking for the perfect gift for your partner to celebrate this occasion, why not consider a glass bud vase set of 10? It's a unique gift that most other couples won't have. A glass bud vase set is something that the couple can use and enjoy for many years to come.
4. Melissa Ceramics Pearl Glazed Set of Decorative Bowls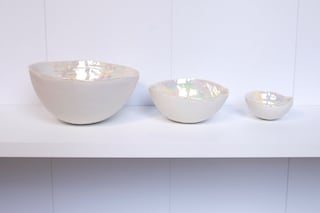 This set of decorative nesting bowls would make a lovely addition to any home. They're handmade with porcelain, and their interiors are finished with a mesmerizing pearl glaze. They add a crisp, clean look to a mantlepiece, bookshelf, or coffee table and would make a gorgeous ring or earring holder for the vanity or nightstand.
5. Essential Oil Diffuser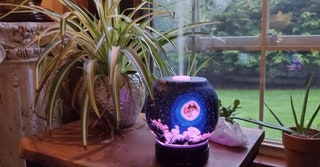 They are incredibly versatile. Diffusers can be used in any room of the home, making them perfect for any occasion. Whether you're looking for a new addition to your bedroom décor or want to create a relaxing atmosphere in your living room, a diffuser can do it all. Diffusers are a great way to promote wellness. Not only do they help improve the air quality in your home, but they can also be used to support your physical and emotional health. Whether you're looking for a new way to relax after a long day or want to promote better sleep, a diffuser can help.
6. 30 Years We Made a Family Sculpture Figurines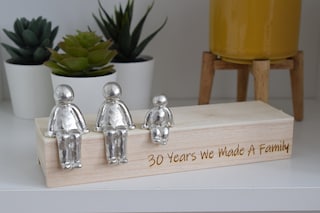 For those who love art and appreciate having unique home decor, this is a great gift idea. These figurines can be customized to look like your family. They make a beautiful addition to any room and are a special way to commemorate 30 years together. This also can be a beautiful way to commemorate your family and all that you've accomplished together. You can find these sculptures online or at local art stores.
7. 30th Anniversary Toasting Flutes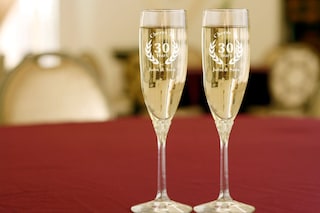 For a modern take on the 30th anniversary, consider gifting your loved ones a pair of toasting flutes. You could even have them engraved with a special message or date to commemorate the occasion. These flutes would make a great addition to any anniversary celebration and would be sure to please your loved ones. This set of two champagne flutes is the perfect gift to commemorate an anniversary, whether yours, your parents, or friends they are sure to absolutely love these two stunning glasses.
8. 30th Wedding Anniversary Coffee Mugs
Your 30th wedding anniversary coffee mugs are all handmade, no two patterns of the mugs are the same, symbolizing the unique love. Replaces the regular standard gifts and stands out from the crowd. The 30th wedding anniversary coffee mugs are specially designed for parents, grandparents, couples 30th wedding anniversary, whether it's a gift for parents, grandparents, and couples or for daily use, it is the best choice to express your love.
9. The Metal Foundry Pearl 30th Sundial
This sentimental, pearly sundial from The Metal Foundry beautifully commemorates the couple's marital success, featuring the date they tied the knot as well as the year they hit the big 3-0. They'll be lost for words when you hand over this unique piece of home decor that reads: "30 wonderful years together.
10. Keurig K-Cafe Coffee Maker
This is the Rolls Royce of coffee makers. You can use any coffee pod to brew coffee, a latte, or cappuccino, and froth milk in the dishwasher-safe milk frother. For the coffee-loving couple in your life, consider gifting them a Keurig K-Cafe coffee maker. This top-of-the-line coffee machine brews both single cups and full carafes, making it perfect for couples who can't seem to agree on how their morning cup should be served. Plus, the Keurig K-Cafe comes with a milk frother, so your friends can make all sorts of fancy coffee drinks right in their own kitchen.
Modern and traditional 30th-anniversary gifts for your loved ones: Jewels and for Your Hobbies
1. Fujifilm Instax Mini 70
This is a great gift for couples who love to take photos together. The Fujifilm Instax Mini 70 is an instant film camera that will print out high-quality photos that the couple can hang on their wall or keep in a photo album. This is a great way for the couple to capture their memories together. Make sure the couple in your life never misses another memorable moment with this camera. It prints out pictures instantly that your loved ones will want to keep forever.
2. Home Theater Projector
A home theater projector is a great gift for couples who love to watch movies together. It will allow them to enjoy their favorite films in the comfort of their own home. This projector is the perfect way for your loved ones to watch movies, play video games, or stream their favorite TV show on the big screen. It's compact and portable and features built-in speakers and 4000-lumen output for crystal clear quality.
3. Garden Kneeler And Stool
For the couple that loves spending time outside in their garden, a garden kneeler and stool is the perfect gift. This way they can both enjoy their hobby together while staying comfortable. This handy garden tool can make gardening easier on the knees and back and can be used as a stool for extra height when needed. It's perfect for couples who love spending time outside together.
4. The Smart Garden
For the couple that loves to cook, this smart indoor garden allows them to grow their own herbs and veggies all year long, right in their kitchen. Moreover, you've always wanted minimal time and effort on planting. You also don't need a backyard (or even a hospitable climate), and finally, you'll always have fresh produce on hand for cooking and garnishing.
5. Travel Duffle Bag Set
For the couple that loves spending time traveling, Travel Duffle Bag Set is a perfect gift idea. For one, it is spacious enough to fit everything you need for a weekend getaway. Secondly, the bag features a luggage sleeve which makes traveling with it a breeze. And lastly, the bag is made from high-quality materials which means it will withstand the test of time. Using a duffle bag set can help to keep couples organized and on track while on the go.
6. Medallion Pearl Necklace
Classic yet trendy, these Ten Wilde Pearl Necklaces are great for anyone who wants to be able to match their outfit with something special. The pearls themselves have a timeless quality about them that will never go out of style but the addition of gold-hammered detail makes this piece modern and attractive enough so it doesn't get lost among all other jewelry on display at any given time! If she loves statement accessories or just appreciates simple classic pieces then you've found an excellent gift idea too far away from home because both tastes can satisfy here in one beautiful necklace box that comes equipped with readymade wearing easy as pie.
7. White Akoya Cultured Pearl Earrings
Pearls are the ultimate accessory for any occasion. These earrings come in different styles and can be worn with jeans, flats, or heels on weekends while also working during weekdays – they're perfect no matter what you need them to do! The perfect gift for your loved one, these pearls are made from 100% natural cultivated Japanese rose germinated gemstones. They come in a pretty box so she'll be impressed no matter what!
8. Pearl Bracelet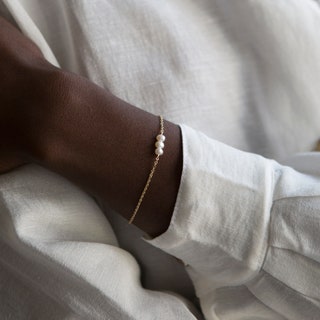 If you're looking for the perfect gift, look no further than this bracelet from GLDN by Layered + Long. Choose between a rose gold or silver chain and up to seven natural pearls in your choice of color! The unfussy design is sure not only adds classiness but also makes it easy on any outfit whether dressy or casual.
9. 14K Gold Name Necklace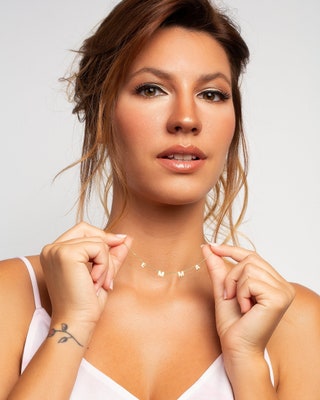 If you're on the lookout for a truly special and unique gift for your loved one, then why not consider a 14K Gold Name Necklace? This is an exquisite piece of jewelry that is perfect for couples, as it can be personalized with both of your names. What could be more romantic than having your names forever inscribed on a beautiful gold necklace? It's a gesture that will show just how much you care, and it's something that your partner can cherish forever. The 14K Gold used in this necklace is of the highest quality, meaning it will stand the test of time and always look fantastic.
10. Personalized Tiny Puzzle Piece Necklace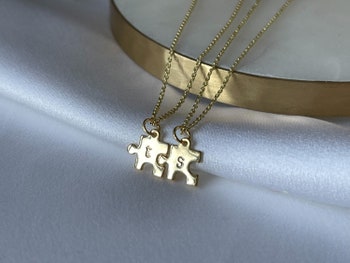 There are many ways to keep the spark alive in your relationship, and one of them is by wearing a personalized tiny puzzle piece necklace. Each necklace features two charms – one for each of you – that are connected by a delicate chain. You can choose to have the charms engraved with your name, an important date, or any other meaningful message. What's more, the tiny puzzle piece necklace is a symbol of the strength and unity of your relationship. No matter how challenging things may get, you can always rely on each other to put the pieces of your life back together.
Tips to choose 30th-anniversary gifts for couples
Choosing the right 30th-anniversary gift for your partner can be difficult. You want to find something that is special and meaningful, but also practical and useful. Here are some tips to help you choose the perfect 30th-anniversary gift for your loved one:
1. Think about your partner's hobbies and interests
What do they enjoy doing in their spare time? What are their passions? Find a gift that relates to one of these interests.
2. Consider your partner's lifestyle
Is he or she always on the go? Or do they prefer to relax at home? Choose a gift that fits your partner's lifestyle.
3. Think about what your partner needs
Is there something that would make their life easier or more comfortable?
4. Personalize the gift
Make it something that is unique to your partner and represents your relationship.
5. Get creative
There are many unique and unusual 30th anniversary gifts out there, so get creative and think outside the box.
Whatever you choose, make sure it is a gift that your partner will appreciate and use. A 30th-anniversary gift is a special way to show your love and commitment, so take your time and choose something thoughtful and meaningful.