Anniversaries are a time to celebrate the love and commitment that you have for each other. It's hard to believe that it has been 10 years already! Time flies when you're having fun, and it seems like only yesterday that you and your partner tied the knot. No doubt you have many happy memories together, and you're looking forward to many more in the years to come.
10 years is a major milestone in any relationship, so make it extra special with one of these creative and thoughtful gift ideas. 10Year anniversary gift ideas should reflect the love, dedication, and commitment that the couple has for each other. Whether you are looking for something traditional or something more unique, we have got you covered. So take a look and find the perfect gift for the significant other in your life!
10-Year anniversary gift ideas deserving of a decade to save memories
1. Wood Map with Personalized Milestone Pins
Capture the most important places in your lives or travels over the past 10 years in an anniversary map. You can choose up to two maps (including the U.S or World map) and customize the details. We recommend including both of your hometowns, where you met, where you got engaged, where you married, and where you honeymooned. If the couple in your life loves to jet-set around the world, get them this personalized wooden map. They can use the customizable push pins to commemorate their favorite special occasions.
2. TIN Date Night Dice 10th Anniversary
Turn to choose your next date into a fun little game with the tin date night dice. Two dice feature 36 date night ideas, from making a homemade pizza to having a movie night. Roll one for a short date, or two for a long date, and see where the spontaneity will take you for the night! It's a lovely product to add some spice and variety to your 10-year anniversary date night.
3. 10 Year Anniversary Family Tree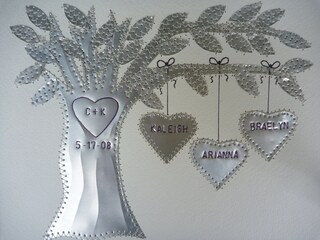 A unique and personalized gift for a couple celebrating their 10 year anniversary is an aluminum tree with stamped names and wedding date. This meaningful gift will serve as a beautiful reminder of their love and commitment to each other. Made from recycled aluminum, this family tree is the perfect ten-year anniversary gift. You can personalize the couple's initials, last name, wedding date, and names of children on the hanging hearts.
4. Luna Bean Keepsake Hands Casting Kit
Luna Bean Keepsake Hands Casting Kit gifts are a unique and memorable way to capture the moment and frozen time of your loved ones together. Moreover, they are affordable and easy to use, making them a great option for last-minute gifts. The casting kit comes with all the necessary supplies, and the instructions are simple to follow. The finished product is a beautiful and tangible reminder of your loved ones' relationship that can be displayed in your home or given as a gift to others.
5. Personalized Hearts Four-Across Game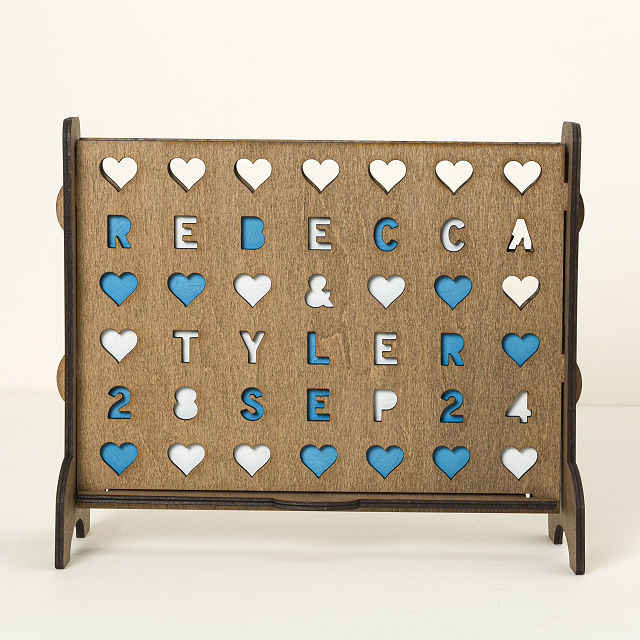 Treat your loved ones to a lighthearted game of four-across. The couple who plays together stays together. Challenge your other half to some lighthearted competition with Kasey and Justin Pearson's lovingly crafted four-across game. They carve their handsome, heirloom-quality activity set from maple wood. Amid a field of incised hearts, up to four lines (seven characters each) can be personalized with your names, anniversary date, or a sweet message to surprise the one you adore.
The best home appliances 10th-anniversary gifts
1. Heart Waffle Maker
Bring a little love to your favorite couple's breakfast time with this waffle maker. It comes with two heart-shaped plates that make perfect waffles. For the couple that loves breakfast in bed, this heart-shaped waffle maker is the perfect 10-year anniversary gift. It comes with a convenient drip tray to catch any errant batter and has non-stick surfaces for easy cleanup. Plus, it'll make your mornings just a little bit sweeter.
2. Home Theater Projector
A home theater projector is a great gift for couples who love to watch movies together. It will allow them to enjoy their favorite films in the comfort of their own home. This projector is the perfect way for your loved ones to watch movies, play video games, or stream their favorite TV show on the big screen. It's compact and portable and features built-in speakers and 4000-lumen output for crystal clear quality.
3. Keurig K-Cafe Coffee Maker
This is the Rolls Royce of coffee makers. You can use any coffee pod to brew coffee, a latte, or cappuccino, and froth milk in the dishwasher-safe milk frother. For the coffee-loving couple in your life, consider gifting them a Keurig K-Cafe coffee maker. This top-of-the-line coffee machine brews both single cups and full carafes, making it perfect for couples who can't seem to agree on how their morning cup should be served. Plus, the Keurig K-Cafe comes with a milk frother, so your friends can make all sorts of fancy coffee drinks right in their own kitchen.
4. Fujifilm Instax Mini 70
This is a great gift for couples who love to take photos together. The Fujifilm Instax Mini 70 is an instant film camera that will print out high-quality photos that the couple can hang on their wall or keep in a photo album. This is a great way for the couple to capture their memories together. Make sure the couple in your life never misses another memorable moment with this camera. It prints out pictures instantly that your loved ones will want to keep forever.
5. Wine Enthusiast 6-Bottle Countertop Wine Cooler
This wine cooler is stylish and modern. It will look great in any kitchen or home bar. The sleek design also makes it very practical and easy to use. Additionally, this wine cooler is also very affordable, making it a great option for couples who are on a budget. Another reason to choose this wine cooler as a wedding gift is that it is very reliable. It has been tested and certified by Wine Enthusiast, one of the most trusted names in wine refrigeration. Lastly, the Wine Enthusiast 6-Bottle Countertop Wine Cooler is a great way to help young couples start their own wine collection.
The best unique 10th-anniversary gifts to do together
1. Garden Kneeler And Stool
For the couple that loves spending time outside in their garden, a garden kneeler and stool is the perfect gift. This way they can both enjoy their hobby together while staying comfortable. This handy garden tool can make gardening easier on the knees and back and can be used as a stool for extra height when needed. It's perfect for couples who love spending time outside together.
2. Wicker Picnic Basket Set
If the couple you know is already living together, they may already have all the material possessions they need for their home. In this case, a unique and thoughtful gift idea would be to give them a wicker picnic basket set. This way, they can enjoy many romantic picnics together in their own backyard or at a nearby park. The basket should be big enough to fit all the essentials for a picnic, like blankets, plates, utensils, and food. You can also include a few bottles of wine or champagne to make the perfect picnic set.
3. Kulana Lua Tandem Adult Beach Cruiser Bike
For couples who already live together, one great wedding gift option is a Kulana Lua Tandem Adult Beach Cruiser Bike. This bike is perfect for couples who love spending time outdoors together, and it also provides a great way to get some exercise. The bike has 26″ wheels and comes in a beautiful teal color. It's a great gift for couples who enjoy being active together and who appreciate quality craftsmanship.
4. Compact Swivel Cheese Board with Knives
In search of 10-year anniversary gift ideas for couples who are always entertaining? They'll love this swivel cheese board. It starts as a wedge, then swivels out to a tiered server for your favorite appetizers, and includes a hidden drawer for serving tools. Spend time together and make some amazing memories with a fun Compact Swivel Cheese Board with Knives. This is the perfect way to show your partner that you truly care about them and want to spend quality time together.
5. Artblox Soundwave Art Custom Gifts
Here's proof that traditional 10-year anniversary ideas can still be super creative. Get one of your (or their) wedding songs recorded on love box music for an amazing keepsake that doubles as home decor. Soundwave art is a completely unique way to capture and display a special moment in time, whether it's the sound of laughter, a first dance, or even just the two of them talking. Artblox will take any recording and turn it into a beautiful piece of art that can be hung on the wall or displayed on a shelf. This is an especially thoughtful gift for couples who love music, or who have a shared passion for art.
Traditional and modern10th-anniversary gifts
1. Ferrero Rocher Collection
For the chocoholic couple in your life, this Ferrero Rocher gift box is the perfect 10-year anniversary present. Filled with 24 delicious Ferrero Rocher chocolates, it's a gift that they're sure to love. It comes with a variety of chocolates, including truffles, hazelnut creams, and Nutella-filled Rochers. The package even includes a few savory items like biscotti and breadsticks, making it a perfect gift for any couple who loves to indulge in a sweet treat.
2. Personalized Tiny Puzzle Piece Necklace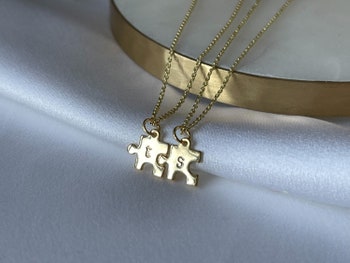 There are many ways to keep the spark alive in your relationship, and one of them is by wearing a personalized tiny puzzle piece necklace. Each necklace features two charms – one for each of you – that are connected by a delicate chain. You can choose to have the charms engraved with your name, an important date, or any other meaningful message. What's more, the tiny puzzle piece necklace is a symbol of the strength and unity of your relationship. No matter how challenging things may get, you can always rely on each other to put the pieces of your life back together.
3. Travel Duffle Bag Set
For one, it is spacious enough to fit everything you need for a weekend getaway. Secondly, the bag features a luggage sleeve which makes traveling with it a breeze. And lastly, the bag is made from high-quality materials which means it will withstand the test of time. Using a duffle bag set can help to keep couples organized and on track while on the go.
Tips to choose 10-year anniversary gifts for your partner
There are no hard and fast rules when it comes to choosing 10-year anniversary gifts, but there are a few things to keep in mind that will help you choose the perfect gift for your partner.
1. Think about their hobbies and interests
What do they love to do in their free time? This can give you some great ideas for gifts that they will love and appreciate.
2. Consider their style
What kind of style do they have? Are they more traditional or modern? This can help you narrow down your gift choices to something they are sure to love.
3. Think about what you have given them in the past
What kinds of gifts have they loved and appreciated? This can help you get an idea of what they might like this year.
4. Don't forget the sentimental value
While your partner may love receiving a material gift, sometimes the most meaningful gifts are ones with the sentiment behind them. A homemade card or a gift that commemorates your time together can be just as special, if not more so, than a physical gift.
5. Keep your partner's needs and wants in mind
What do they really need or want? This can help you zero in on the perfect gift for them.
With these tips in mind, you should be able to find the perfect 10-year anniversary gift for your partner. Just remember to put some thought into it and choose something they are sure to love.