Time flies when you're having fun! It's hard to believe it's been a year since you and your partner became an official couple. Celebrate your one-year anniversary with a special gift that shows how much you care.
If you are looking for the perfect anniversary gift for your significant other, look no further than this list of 1-year anniversary gifts for couples. From practical to romantic, we have something for everyone. So take a look and find the perfect present for the love of your life!
The best 1st-anniversary gift ideas to save memories
1. Journey Print Shop Custom Map Print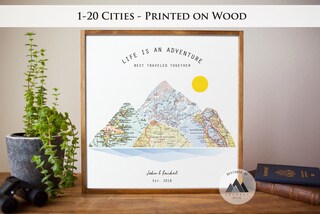 You can show off your relationship with this adorable piece. The design consists of a mountain range made from maps and cities you've visited together, topped by captions that celebrate all the places they have been in love with! It's printed on white wood within an elegant handmade frame perfect for any couple looking to commemorate their adventures as passionately as possible.
2. Fun Adventure Journal
What's a date night without some surprises? This book has tons of fun activities for you and your spouse to do together. From making memories with an instant camera, or baking cookies blindfolded – there are so many ways this awesome guide will help keep the love alive!
3. Edinburgh Hand Casting Kit
If you are looking for a unique and memorable gift for the first anniversary, this hand casting kit from Edinburgh makes a great choice. The kit includes everything needed to create beautiful plaster casts of the couple's hands, which can be displayed in their home as a reminder of your thoughtful gesture. This would be a great way for any couple to commemorate their time together. The kit includes two plaster hand molds, paint, and a display stand.
4. Personalized First Anniversary Comic Book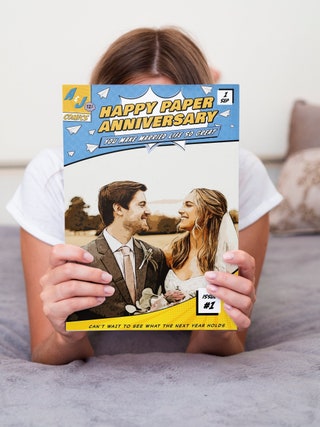 Your first anniversary also called the 'Paper Anniversary', is one of the most special and memorable moments of your time as a married couple! What better gift to commemorate it than a personalized comic book to carry on with the 'paper' theme? It makes for a great gift for you to immortalize your favorite memories together, relive the story of how you met, or simply write an ode to someone special as a unique gift to him or her!
5. Printable Paper Anniversary Party Decor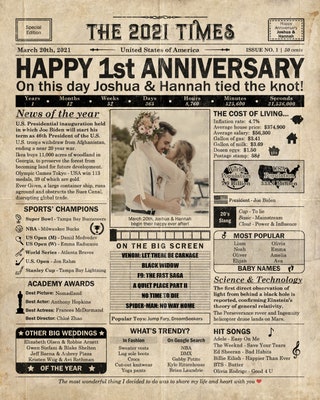 A unique and special way to commemorate your first anniversary together is with printable paper. This can be done easily online, and you can even add in your name and anniversary dates to make it extra special. This would be a great addition to any message as a reminder of your first year together. These anniversary posters are designed to look like an old newspaper that is slightly worn and distressed, giving it a genuine look. It will make an amazing anniversary gift or a party decoration!
Funny gift ideas for couples to celebrate their 1st anniversary
1. Personalized Hearts Four-Across Game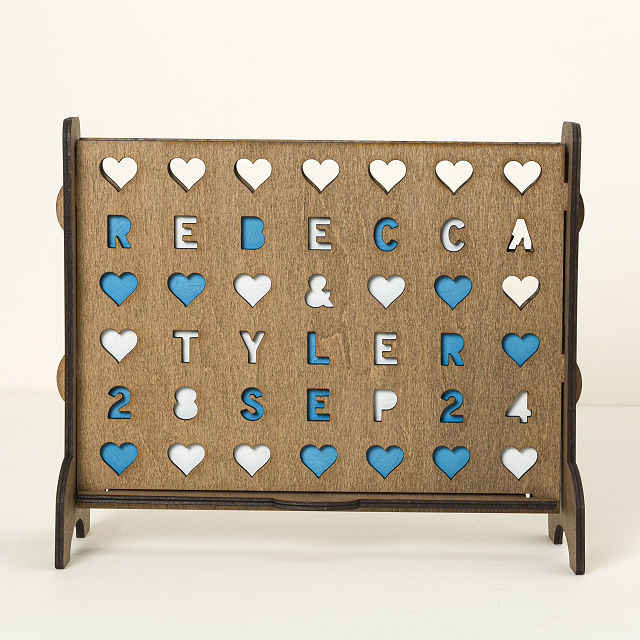 Treat your loved ones to a lighthearted game of four-across. The couple who plays together stays together. Challenge your other half to some lighthearted competition with Kasey and Justin Pearson's lovingly crafted four-across game. They carve their handsome, heirloom-quality activity set from maple wood. Amid a field of incised hearts, up to four lines (seven characters each) can be personalized with your names, anniversary date, or a sweet message to surprise the one you adore.
2. 1st-Anniversary Traditional Paper Gag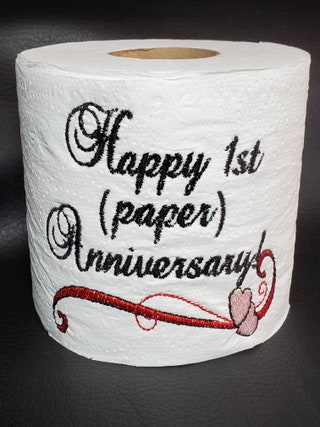 A fun way to celebrate the first anniversary. The traditional first-anniversary gift is paper so this play on what constitutes paper and is on toilet paper makes this a great gift. This would make a great gag gift. The toilet paper comes wrapped in cellophane and tied with red and white curling ribbons.
3. 1st Anniversary Mug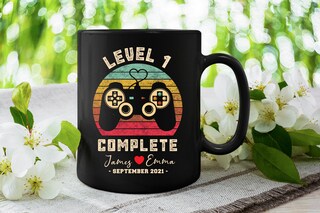 Celebrate your first year of marriage with this beautiful mug set. Each mug features the word "Love" in a different language, and they come in an attractive gift box. Perfect for coffee or tea lovers, this is a thoughtful and unique gift that any couple is sure to appreciate.
4. 100 Dates Scratch Off Poster
With 100 different date ideas, this scratch-off poster is a great way for them to try something new together and keep the spark alive. With 100 different date ideas, this poster is sure to provide endless hours of fun and excitement. Plus, it's also a great conversation starter. They'll never have to waste time figuring out what they should do on a date again thanks to this poster. While it doesn't come with any frames, the scratch-off tool is heart-shaped and super cute!
5. Personalized Face Cushions
When you are looking for a unique and thoughtful gift for a couple, personalized face cushions make an excellent choice. These soft and cozy pillows add a touch of personality to any room, and they can be customized with the names or initials of the recipients. What's more, they make great additions to home decor, making it easy to snuggle up on the couch together.
Useful gift ideas for couples to celebrate one year together
1. The Complete Plant-Based Cookbook
If your partner is interested in learning how to cook healthier meals, this cookbook is a great option. It contains 500 recipes for plant-based meals that are both healthy and delicious. Whether your partner is a novice cook or an experienced one, they're sure to find some new favorite recipes in this cookbook.
2. The Smart Garden
For the couple that loves to cook, this smart indoor garden allows them to grow their own herbs and veggies all year long, right in their kitchen. Moreover, you've always wanted minimal time and effort on planting. You also don't need a backyard (or even a hospitable climate), and finally, you'll always have fresh produce on hand for cooking and garnishing.
3. Home Theater Projector
A home theater projector is a great gift for couples who love to watch movies together. It will allow them to enjoy their favorite films in the comfort of their own home. This projector is the perfect way for your loved ones to watch movies, play video games, or stream their favorite TV show on the big screen. It's compact and portable and features built-in speakers and 4000-lumen output for crystal clear quality.
4. Personalized Cutting Boards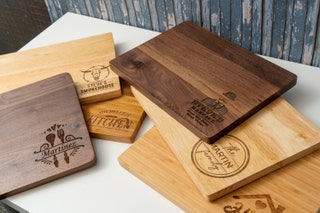 For the couple who loves to cook, a personalized cutting board is a must-have. This gorgeous set comes with two boards, each engraved with the couple's names and wedding dates. They'll love using them in the kitchen, and they make a beautiful decoration for the home as well.
5. 14K Gold Name Necklace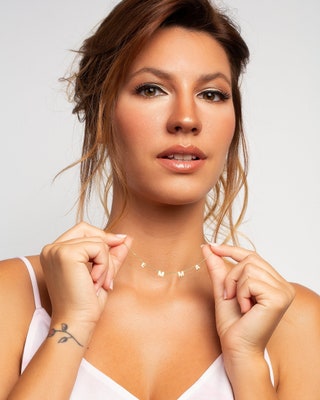 If you're on the lookout for a truly special and unique gift for your loved one, then why not consider a 14K Gold Name Necklace? This is an exquisite piece of jewelry that is perfect for couples, as it can be personalized with both of your names. What could be more romantic than having your names forever inscribed on a beautiful gold necklace? It's a gesture that will show just how much you care, and it's something that your partner can cherish forever. The 14K Gold used in this necklace is of the highest quality, meaning it will stand the test of time and always look fantastic.
Gift ideas for couples to play together: Games
1. Intimacy Deck by BestSelf
This deck of cards is designed to help couples connect with one another on a deeper level, and it is sure to spice up your relationship. This card game includes 150 different intimate activities, and each card features a different activity on one side and instructions on the other. You and your partner can take turns picking cards and trying out new things, and you are sure to have a blast while doing so. This is the perfect gift for couples who want to add some spice to their relationship, and it is sure to make your partner feel loved and appreciated.
2. Love Lingual Card Game
What better way to show your partner how much you care than by giving them a gift that will help you both connect on a deeper level? Love Lingual is a card game that contains 150 conversation starter questions designed to help couples explore and deepen their connections with each other. It's the perfect way to add some fun and meaningful conversation to your next date night or relationship milestone.
3. Toilet Tag Game
This game is perfect for couples who love to joke around and have a good time. This game takes the term "conversation starter" to a new level. With every trip to the bathroom, each person will be challenged with various tasks meant to leave the couple fighting back tears from all the laughter. Toilet Tag is a hilarious new game that takes two people on an unpredictable, revealing, and life-changing journey against their potty partner, without ever leaving the bathroom.
4. Custom YourOpoly Board Game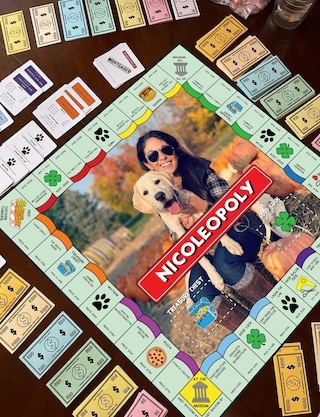 YourOpoly is a twist on the classic Monopoly game that allows players to create their own rules, trade properties, and even add in personal challenges. So, a game like Custom YourOpoly Board Game is a perfect gift. This game is all about customizing your own property empire, and it can be tailored to fit the interests of any couple.
This game is perfect for couples who want to test their knowledge and skills together. With over 400 cards to choose from, there is something for everyone. Plus, the game can be played in teams or pairs, making it perfect for couples.
5. Pizza Roulette Cut & Serve Board
Meal cleanup sure would be a breeze if everyone in the family pitched in. Well, it can happen with the help of gambling? Bear with us. With this serving board, you play a round of pizza roulette to decide who does which chore. Just serve your piping-hot pie on the board and cut along the grooves. Each hungry contestant takes a slice, vowing to complete whichever task is revealed underneath. He has to "Do the Dishes," she has to "Wipe the Counters," and…what's this? You get to "Have the Last Slice?"
Tips to choose gifts for 1year anniversary
It can be tricky to find the right gift for your one-year anniversary, but it's important to remember that the key is to make sure it's something that celebrates your love and connection. Here are some tips to help you choose the perfect gift:
1. Consider your partner's interests
What do they love? What makes them happy? Choosing a gift that is related to their interests will show how well you know them and how much you care.
2. Go for something special and unique
This is your chance to really wow your partner with a gift that is unlike anything they've ever received before.
3. Make it personal
A one-year anniversary is a very special occasion, so make sure your gift is personal and heartfelt. Something that includes a handwritten note or love poem will be extra meaningful.
4. Think outside the box
If you're stuck on what to get, try thinking outside the traditional gift ideas. Something creative and unique is sure to impress.
5. Consider a memorable experience
A great way to celebrate your one-year anniversary is by giving your partner an unforgettable experience. This could be tickets to a show or concert, a weekend getaway, or anything else that you know they would love.
Following these tips, you're sure to choose a gift for your one-year anniversary that your partner will absolutely love.